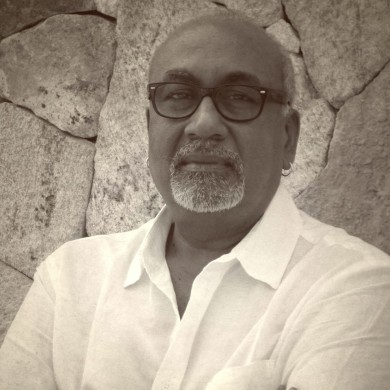 Throughout his long and prolific career, Bharath Ramamrutham has created a body of work which has come to exemplify not only the purist approach to photography, but to many people the definitive pictorial statement on Indian architecture, design, and the Indian landscape. The prestige and popularity of his work is defined by his dedication to the technical perfection of this medium, and his emphatic focus on light and space. A stream of books, monographs and contributions to publications around the world during the past 25 years have indisputably established Bharath place in the eminent pantheon of master photographers.
Coupling strict discipline with the eagle-eye of an experienced architect, Bharath manages to capture not only the structure of buildings, but also the spirit, body, and soul of both traditional and modern Indian architecture. He has the unique capacity to incorporate the times and culture embodied in each piece of work, making his photographs strikingly distinctive.
Bharath's envisioning of Graf originated from his many successful collaborations with a variety of prolific and passionate authors and publishers on a multitude of books. With his meticulous attention to detail, refined aesthetic sensibilities, and progressive design concepts, he was requested to provide end-to-end solutions for a range of discerning clients.
His photographs are featured in several paramount publications, which include Indian Design, Inside India, Temple Towns of Tamil Nadu, Chidamabaram, Elephanta, Marwar Paintings and Bombay Gothic to name just a small selection. Further, his images of India form part of the Incredible India campaign of the Dept. of Tourism, Government of India and campaigns of the Tourism Authority of Seychelles and Mauritius.
Architects
Satish Gujral
Mohit Gujral
Charles Correa
Kamal Malik
Rahul Mehrotra
Bimal Patel
Spazzio
Jitendra Mistry
Rajinder Kumar & Associates
Kapadia & Associates
Sandeep Khosla
Publications
Inside Outside
Interiors India
Indian Architect & Builder
Architecture+Design
Indian Design and Interiors
Jet Wings (Inflight magazine of Jet Airways)
Design Today
Better Interiors
Elle Decor
Perspectives on Architecture (London)
India Today Travel Plus
Hotels
The Taj Group of Hotels
The Leela Group of Hotels
The Mansingh Group
The Ambassador Group
The Raintree – Chennai
The Hyatt Group
The Marriott Group
The Accor Group
Corporate Organizations
Air India
Larsen and Tubro / ECC
Shapoorji Pallonji
ICI
Philips
Grundig
Indian Airlines
The Mauritius Govt. Tourism Organization
The Seychelles Tourism Marketing Authority
Nestle
Saint Gobain
Zil Air
Houses of Goa
Houses of Chettinad
Hampi – Stones of Civilization
India's vanishing Wilderness (The Landscapes of India)
Unrealised Projects:
Houses of Pondicherry
Kerala Style
Tamil Nadu -The Last of the Great Civilizations
World Heritage sites of India
With Marg Publications (Mumbai):
Living Wood – Sculptural traditions of Southern India
Temple Towns of Tamil Nadu
Victorian and Edwardian Architecture in India
From Bombay to Mumbai
Chidambaram
The Great Temple at Thanjavur
With India Book House (Mumbai):
In and Around Ajanta and Ellora
Bombay Gothic
Marwar Painting
Elephanta
Dance of the Peacock – Jewellery Traditions of India
Jewels of the Nizams
With Kyle Cathie (London):
Inside India – Quintessential Indian Style
With Daab (Germany):
Packaged and delivered print ready Artwork for entire book through Fusion Publishing (Stuttgart)
Indian Design
With PICTOR (Mumbai):
Architecture in India since 1990
Rambagh Palace Jaipur
Through Graf Publishing (Self):
Falaknuma Hyderabad
Rambagh Jaipur (Titan)
1976 to 1989  
Architecture
1989 to 1990  
Apprenticed in London on Photography & imaging techniques
1991 to present   
Professional freelance photography
1998
moved base to London working as an Architectural Photographer
2001
returned to India to set up base in Chennai
2005
Established 'graf publishing pvt. ltd.'  – An Integrated Creative Communications and Publishing Company
© BHARATH RAMAMRUTHAM 2015